About Us
Club Management
The management and advisory team of the Club Fat Ass is made up of people from around the world who share the vision of promoting good health and camaraderie through free, informal, inclusive, environmentally-friendly Club events.
Club management offers a range of experience in general business, association management, event management as well as experience as participants in running,peak-bagging, triathlon, adventure racing, mountain biking, hiking and a host of other outdoor-oriented competitions.
The Club is managed by an executive and volunteer steering committees. Each committee is made up of members and other volunteers who, as a team, aim to achieve the objectives of their respective committee. Steering Committee members serve a two year term and may continue year-to-year thereafter. Event Hosts are the Club members who host Club events.
Executive
Chief Executive Fat Ass - Sibylle
Sibylle *is* the Club! She devotes 40-50 hours a week to making sure everything comes together. She answers your questions, gets your t-shirts to you, writes the newsletter, stresses over the website and manages all manner of other administrative things that need to get done.
Steering Committee
The objective of this committee is to make sure the Club, with its limited resources, does the right things at the right time.
Current Steering Committee
Chair - Ean Jackson
Ean cracks the whip with the committees and does his best to make sure the Club gets to where it wants to go.

Technology Committee - Ran Katzman
Ran is the technology geek responsible for the Club website. He has the impossible task of creating a world class online clubhouse with no money and little help. He would really love to meet you if you share his vision and could spare a bit of your technical expertise!
Thanks to Dale Marthaller, Jeff Summers, Lara Taylor, Sal Bugliarisi, and Matt Arjmandi whose contribution to the technology behind the Club Fat Ass website are much appreciated.

Membership Committee - Marc Schmitz
The membership committee is all about you, the member. What do you love about the Club? What could we improve? This role is to represent you and grow our membership, so please be sure to tell the committee chair what you'd like to see!
Event Host Committee - Marc Schmitz
The Club wants to make certain all Event Hosts have a positive experience with their event. The Event Host Chair stays in touch with Event Host to remind them of timelines to successfully plan and host their event. They also match more experienced Event Hosts with new ones, manage the Event Host Handbook and other aspects of Club events. All Event Hosts are encouraged to participate on this committee.
Finance Committee - open
The finance committe makes sure expenses are tracked and bills are paid.
Sponsorship Committee - open
Given that the Club is built on the concept of free events, it needs the support of socially and environmentally-conscious businesses to remain viable. The Sponsorship Committee identifies prospective sponsors members and makes sure our sponsor members get awesome value by associating with the Club. Contact them if you would like to support the Club or know of someone who might!
Marketing Committee - open
The Marketing Committee is responsible for making sure the world knows about the Club and its benefits. The committee works with the media, writes press releases and other fun stuff. Involved with the committee in the past were Jessica Marshall and Vida Morkunas, but we could use your help, too.
Everything Else Committee - Ean Jackson
This role is a catch-all that addresses special projects and lends a hand to all of the other committee members. Reagan White is currently working on the Active Porker iPhone app as well as helping Sibylle implementing a new email list management tool.
Past Steering Committee Members
Thanks for your help in the past: Troy Angrignon, Peter Parrish, Craig Moore, Eileen Bistrisky, Roar Bakken, Steve Deller, Lara Taylor, Stewart Marshall, Michele Sherstan, Jackie Montgomery, Kristin Ohm-Pedersen, Berglind Hafsteinsdottir, Ryan Conroy, Vanessa Fors, Reagan White.
Event Hosts
The following individuals belong to the elite circle of Club members who host or have hosted free events for all Club members:
Current Event Hosts
Craig Moore, Carlos Castillo, Bill Dagg, Jackie Montgomery, Wendy Montgomery, David Crerar, Ann Taylor, Allison Conroy, Tara Jackson, Ryan Conroy, Desmond Mott, Pete Stace Smith, Eagle Walz, Jess Dagg, Genissa Sygitowicz, Karl Jensen, Sibylle Tinsel, Ean Jackson, Marc Schmitz

Past Event Hosts
Peter Zubcsek, Keith Thompson, Gary Robbins, Geoffrey Palmer, Chris Mager, Dom Repta, Melissa Pace, Katheryne Gardiner, Berglind Haffsteinsdottir, James Sinclair, Daniel Probst, Andy Nicol, Cheryl Johnson, Lucinda Iglesias
Honorary Member
Joe Oakes. Joe is the only person to have earned honorary member status in Club Fat Ass. A person who has earned the coveted silver buckle at Western States 100-mile endurance run, swam across the Bering Strait, and only person to lead about 14,000 swimmers out of Alcatraz Island since 1980, Joe hosted the first Fat Ass 50 and inspired us to start the Club.
Club Brochure
If you would like a 1 page (2-sided) overview of the Club, just click on the attachment link below.
The Porker
"The Porker" is Club Fat Ass's official mascot.
The Porker has a rich history and is manifested in several forms: our "golden" mascot, our Club logo and most recently, the ActivePorker iPhone ap.
Our Club mascot ("Piggie") is made of brass. He's a bit bigger than a loaf of bread and weights a ton! (Well, figuratively, anyway. Odds are, you don't want him hanging-off your hydration pack on a long trail run.)
Piggie's early years are unclear. We're not even sure of his/her gender, as there are no visible details. (For the sake of argument, we'll assume that Piggie was, at one time, a he.)
Goodness knows where he was born. As the slot in his upper back and the rubber plug in his belly can attest, he came into this world as a piggy bank.
On 13 June 2009, the day of the 7th annual Vancouver Skyline XTC, he was spotted at a garage sale and saved from obscurity by a vigilant Ean Jackson for the princely sum of CDN$2.00. He promptly proved his worth by being served a free beer by the kind owner of the Mosquito Creek Grill as an "official" finisher of the XTC.
While he's not much of a runner, he is a publicity hog. Since the 2009 XTC, he has been present at most Club Fat Ass events... especially where there is free beer and food. He's also been spotted in an increasingly large number of Travelling t-shirt contest photos with pretty girls. His movements are tracked by vigilant Porker spotters on a Facebook Photo Album. Contact us if you'd like to book him for your CFA event, your wedding or any other imporntant event.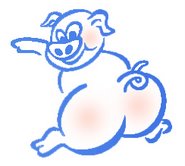 The Porker is also front and center in our Club logo. Our logo was created in 2005 by NextPhase Strategy, a Vancouver, Canada marketing and branding company. The idea came from Alan Firth, who designed a t-shirt with a piggie on it for an early fat ass run in the 1980s. We wanted him to look like a lard-ass who was motivated to get off his duff and do something active, like go for a run on the trails.
The ActivePorker is the name of Club Fat Ass's iPhone ap. This ap was designed and developed in early 2010 by Club member Reagan White. Be sure to download the ActivePorker and use it if you have an iPhone, an iPod Touch or iPad. It's free and the growing number of users praise it's usefulness as a way to stay in touch with what's going on in the Club from anywhere at any time!