The Porker
"The Porker" is Club Fat Ass's official mascot.
The Porker has a rich history and is manifested in several forms: our "golden" mascot, our Club logo and most recently, the ActivePorker iPhone ap.
Our Club mascot ("Piggie") is made of brass. He's a bit bigger than a loaf of bread and weights a ton! (Well, figuratively, anyway. Odds are, you don't want him hanging-off your hydration pack on a long trail run.)
Piggie's early years are unclear. We're not even sure of his/her gender, as there are no visible details. (For the sake of argument, we'll assume that Piggie was, at one time, a he.)
Goodness knows where he was born. As the slot in his upper back and the rubber plug in his belly can attest, he came into this world as a piggy bank.
On 13 June 2009, the day of the 7th annual Vancouver Skyline XTC, he was spotted at a garage sale and saved from obscurity by a vigilant Ean Jackson for the princely sum of CDN$2.00. He promptly proved his worth by being served a free beer by the kind owner of the Mosquito Creek Grill as an "official" finisher of the XTC.
While he's not much of a runner, he is a publicity hog. Since the 2009 XTC, he has been present at most Club Fat Ass events... especially where there is free beer and food. He's also been spotted in an increasingly large number of Travelling t-shirt contest photos with pretty girls. His movements are tracked by vigilant Porker spotters on a Facebook Photo Album. Contact us if you'd like to book him for your CFA event, your wedding or any other imporntant event.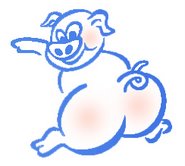 The Porker is also front and center in our Club logo. Our logo was created in 2005 by NextPhase Strategy, a Vancouver, Canada marketing and branding company. The idea came from Alan Firth, who designed a t-shirt with a piggie on it for an early fat ass run in the 1980s. We wanted him to look like a lard-ass who was motivated to get off his duff and do something active, like go for a run on the trails.
The ActivePorker is the name of Club Fat Ass's iPhone ap. This ap was designed and developed in early 2010 by Club member Reagan White. Be sure to download the ActivePorker and use it if you have an iPhone, an iPod Touch or iPad. It's free and the growing number of users praise it's usefulness as a way to stay in touch with what's going on in the Club from anywhere at any time!